We're a busy national network and have many ways that we work and support professionals in their participation practice. A key part of what we do is our commitment to your professional development.
Image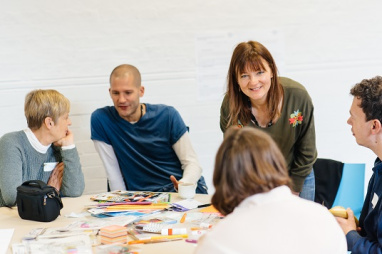 Be the first to hear about and access our training, resources and networking opportunities by signing up to our monthly news alert or stay in touch with us on Twitter at @MOH_Tweets.
Open Forum for Professionals
We provide a central hub for professionals to share expertise and ideas. We celebrate disabled children and young people's participation and facilitate information sharing and practice development. We create opportunities for practitioners to come together and identify common challenges, look at practice standards and share learning and evidence on participation.
If you would like to register for our online forum, please complete a registration form at bit.ly/2quFXhf.
First-class Training Opportunities
We offer a range of different training sessions designed to support you to engage and communicate with children and young people.
Our training focuses on understanding the 'how to', using practical tools and overcoming challenges. The workshops we host are participative and allow you to debate, discuss and learn by doing. We will support delegates to plan, deliver and evaluate your participation work; and how to support young people to get involved in decision-making.
Our training is aimed at professionals working with disabled children and young people: local authority SEND teams, service providers, commissioners, voluntary sector services. We can tailor our participation training to your needs.
We can also deliver training directly to groups of children and young people about the changes to SEND law and their right to be involved in decisions about their support.
Delegates at our past events have rated their confidence level in working with children and young people as 99% good or excellent as a result of attending our training days.
For more information on our training opportunities drop us an email cdc@ncb.org.uk.
Thank you for such an engaging day. It was so refreshing to hear from young people and have them facilitate workshops
Delegate, National Conference 2016
Resources
We produce a range of practice-based resources and where possible we co-produce resources and training with disabled young people. One of our most popular resources is the Your Rights, Your Future tool kit which helps practitioners help children and young people make sense of the new SEND laws. Click here to read and download all of our resources.
Young People's Groups
Central to developing our practice is our work with young people. We are really proud to have worked with some fantastic young people over the years. A particular highlight was the Department for Education-funded young people's group EPIC, who over three years advised the government in the early stages of Children and Families Bill and whose views influenced and shaped key pieces of the Act which directly related to children and young people. Currently, we are working with a young people's group called FLARE who advise the Department for Education on the SEND reforms.
We also undertook a research project in partnership with the Alliance for Inclusive Education (ALLFIE), the Children's Society, and the NCB Research Centre called VIPER which trained young disabled people in research skills to look at participation in decision-making about local services.
Regular Updates
Our team sends out newsletters to over 1500 professionals.
By signing up to regular email updates you will:
Hear the latest participation news and get ahead of your colleagues
Receive the latest policy and practice updates 
Have the chance to share information about your project with hundreds of colleagues in the sector
Read case studies and find out what others organisations are doing well
Gain Exclusive Insight into Best Practice
We have excellent links with organisations within the sector and as part of our regular updates, we look to highlight case studies that shine the spotlight on what our colleagues and other organisations are doing particularly well. In the past, we have featured KIDS and Core Assets as our case studies.
Have you done some fantastic participation work that you want to shout about? Then let us know - we would love to feature you in our national newsletter seen by hundreds of colleagues in the sector.
We would love to know how your project is helping disabled children and young people:
Make decisions that affect their lives
Speak out about issues that affect all children and young people
Develop their local communities
Plan services that they use
If you're interested in showcasing your project get in touch with one of our team at cdc@ncb.org.uk