Image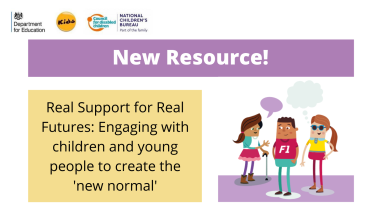 The Covid-19 pandemic and subsequent lockdowns have brought many challenges to children and young people with special educational needs and disabilities. Moving out of the pandemic presents professionals and practitioners with an opportunity to create with children and young people a new standard for their support and futures.
As part of the Making Participation Work programme, a joint partnership between the Council for Disabled Children (CDC) and KIDS, and funded by the Department for Education, FLARE, the young people's advisory group to the Department for Education supported by CDC, have shared what professionals can do to support them moving forward, and why their participation in these conversations is central to support improvements.
Thank you to FLARE for co-producing this resource!