Funded by the Department for Education this two year programme involved working in partnership with five local authorities to co-produce new approaches to assessment in children's social care. At the end of the project each model was evaluated against previous local practice, focusing on quality, efficiency and value for money with the aim of identifying approaches that have potential for wider application nationally.
Image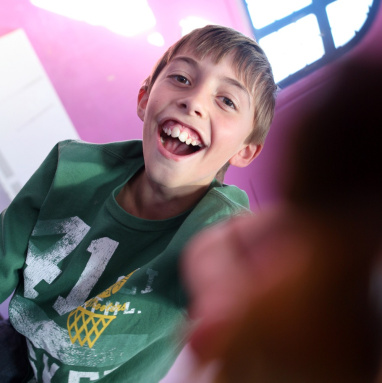 The need for innovation
Evidence shows that we over assess disabled children, using expensive social work resources, because of a need to gate-keep access to practical family support resources, such as short breaks (New Learning from Serious Case Reviews, Brandon et al 2012).
Many families are subject to an over intrusive, resource intensive approach to access basic requirements. Conversely, research identifies a tendency to under assess disabled children who need safeguarding support. Disabled children are at greater risk of significant harm but are underrepresented in child protection work. More focus is needed on safeguarding, identification and assessment of risk of significant harm.
Developing a model
The framework for the programme is a learning and innovation model involving four phases of development:
Discover – Learn as much as possible about the current system and how it works.
Define – Analyse the learning from the discovery phase to clearly define challenges and barriers to achieving the aims of the programme in practice and to identify the key opportunities for change.
Co-design – work in partnership with children, young people, their families and professionals to generate ideas and develop new approaches to test.
Test – trial the co-produced ideas with children, young people, families and professionals.
All of the work in each phase has been underpinned by the four key principles developed by the participating local authorities:
Meaningful co-production with disabled children and young people, parent carers, and professionals;
Creative person-centred approaches;
A seamless service experience;
Prevention is best.
What we learned
Problem solving with parent carers, professionals and children and young people has led to more creative and innovative solutions.
Having parent carers and professionals (including SENCOs, inclusion managers, health visitors, health professionals, social workers and local authority education teams, and voluntary and community sector organisations) all in the same room discussing the same challenges and sharing their views in a solution-focused way has led to a much greater understanding of roles and responsibilities.
Parent carers have developed a better understanding of the challenges and constraints that professionals are working within but also feel that they are being listened to and that their views are informing the solutions that are being tested.
The approach has given more credibility to the outputs developed for the test phase as it is clear that all of the stakeholder's views have been taken into account.
It has developed trusting relationships between parent carers and professionals which have enabled open conversations about difficult topics and led to unexpected learning which has supported innovation.
Next steps
Co-produced solutions are going through an iterative co-design and testing cycle until the end of September 2016. This is to support the most robust evidence being collected and analysed by the evaluation team in 'real life' scenarios. Their final report will be available in October 2016. In the meantime you can read more about the programme and the solutions being tested in Transforming Culture and Practice in Social Care: Part 1